Today's the day!

8th August 2008

;

8:08pm

is when the

One World, One Dream

Beijing 2008 Olympics

would kick off.
Despite gaining worldwide publicity over the earthquake, typhoon, haze conditions & protestors who threatened to boycott the olympics, China promises the people of the world that everything will still go on & it would be an eventful one as planned.
The 80,000 capacity 'bird-nest' Beijing National Stadium all lighted up for the night.
Superstars like Celine Dion, Sarah Brightman, Liu Huan & Jay Chou will be performing tonight among some 15,000 performers with 29,000 fireworks due to be released into the night sky
lighting up the passion to the hundreds of thousands of spectators in the National Stadium, as well as treating the hundreds of millions of people outside to a spectacular performance.
The 'cube'-shaped Aquatics Centre
Mascots of the Beijing 2008 Olympics


'Fuwa' dolls are the official mascots for this year's Olympics as they are considered as 'good-luck dolls' in China. Five 'Fuwa' dolls: Beibei, Jingjing, Huanhuan, Yingying, and Nini- in different colors represent the five different-colored Olympics rings and Chinese culture.
The five names of Fuwa dolls makes up the sentence "Beijing welcomes you". Interesting?...Well..now u know.

Pictures of the rehearsals: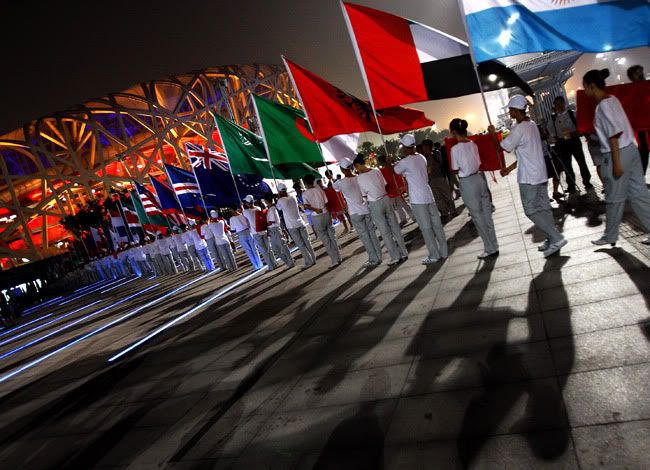 Finally, as faithful readers of my blog, you're in for a treat as I present to you.....a leaked video of the Beijing 2008 Olympics Opening Ceremony,..hours before the real thing kicks off.
Do remember to stay glued in front of your TV sets tonight at 8 p.m for the real thing!